We're always on the lookout for beautiful papercraft ideas, but we also all want to be more sustainable – especially during the holiday season when we typically produce excess waste. This Christmas, ditch the unsustainable plastic and foil wrapping paper for more sustainable alternatives.
Last year, we threw away 227,000 miles of Christmas wrapping paper, almost enough for us to paper our way to the moon! Studies in the UK have shown that we typically produce a third more waste during the holiday season – and most of this will end up in landfill.
This isn't a sustainable way to live – so this year, instead of reaching for the foil or plastic embellished wrap, why not use a plain paper instead and rely on your own papercraft skills to add the beauty?
#1. A few of our favorite things
Brown paper packaging tied up with string is so good, they made a song about it… and there's nothing to prevent it looking festive either. Add some festive greenery – a pine branch or a holly spring – or perhaps a dried orange slice or two.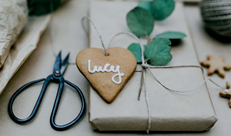 String can be saved and reused – making this an especially sustainable choice for your Christmas gift wrapping. Reuse the brown paper that comes in your parcels as packaging. Or, if you don't have that, opt for paper from an FSC-certified source if possible.
#2. Reuse old gift bags instead of gift wrapping
If you have old gift bags from last year, this is a truly sustainable option for Christmas gift wrapping. If you don't have used gift bags, you can buy some – but make sure you encourage your recipients to save and reuse them! Buy bags that do not have foil or plastic embellishments so they can be easily recycled when they do reach end of life.
#3. Repurpose last year's Christmas cards on your Christmas gift wrapping
Don't stop at gift bags when reusing your Christmas supplies. Last year's cards make the perfect labels if you cut out images from the front of the cards. Simply use a holepunch to create a single hole, string some paper twine through it and you have a really sustainable gift label.
We love the way House and Home have reused gift cards to decorate the presents wrapped in brown paper on their blog. They suggest "Give your old greeting cards the attention they deserve (rather than sitting in a box at the back of your closet). Create two slits on either end of the card, insert a ribbon and wrap it around the present."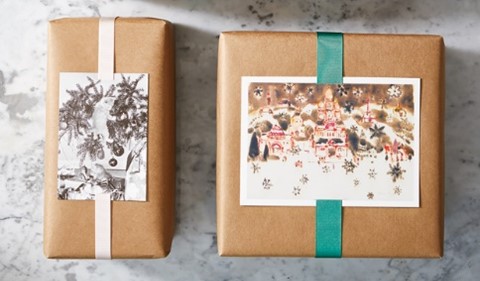 #4. Kirigami bows for your Christmas gift wrapping
House and Home offers another great Christmas gift wrapping idea with this tutorial on making paper gift bows. The Japanese art of kirigami involves cutting as well as folding paper. Here, one of the magazine's editors Kai Ethier shows you how to turn leftover wrapping paper into an intricate kirigami bow.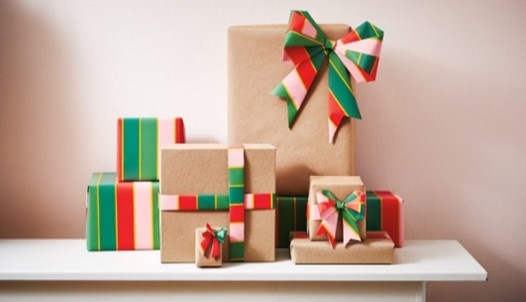 #5. Five-pointed origami star for your Christmas gift wrapping
For a really special extra decoration for your Christmas presents, these five-pointed origami stars are just the thing! They are relatively simple to make – watch an explainer video here. You can use brown kraft paper.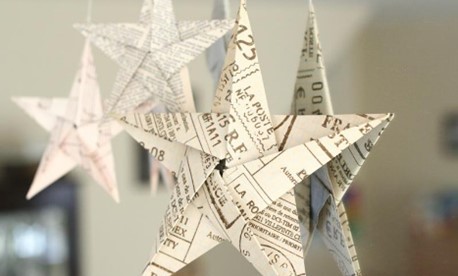 Want more Christmas inspiration?
Explore a few more ideas on our blog: