Did you know that international chess day is July 20? Inspired by the day – and not a little by the sensational Netflix series the Queen's Gambit – the Business Optimiser team takes a look at how to transform a few sheets of printer paper into your very own chess set!
20th July marks the date in 1924 when the International Chess Federation was established in Paris. World Chess Day (or International Chess Day) is now celebrated worldwide on this day.
In 2019, the day was recognized by the United Nations General Assembly, which unanimously adopted the relevant resolution in December of that year.
To celebrate the occasion, we look at three different ways to create your own chess set using just a few sheets of paper.
#1. Print off a printable and construct
The easiest way to create your own paper chess set is to print off a printable template. There are plenty available across the Internet, including this fabulous one from the teacher and parent learning resource website Twinkl.

This chess set printable has been designed especially for kids to construct their own pieces and boards for their school chess club – so it's super easy to do. You'll just need to print off the patterns, carefully cut out each of them and then either Sellotape or glue them into shape.
The website also offers other helpful printable resources, including a design your own chess piece activity sheet and a chess club resource pack which explains how each of the pieces moves and how to play.
#2. Cut out templates then strengthen with cardboard
The Twinkl paper chess sets are great, but if you would like to make your pieces a little sturdier, you could mount 2D shapes on cardboard and then attach them to a cardboard base.
We like the templates on the Sun Catcher Studio website.
Although they are intended as woodcutting patterns for 3D chess pieces, you can use the same templates to draw onto paper and then back with stiff cardstock.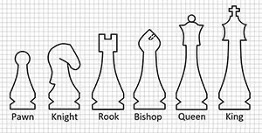 Before you cut out each piece, add a small rectangle to the bottom of each of your paper and cardstock patterns. This way, you create a tab that can be folded back and used to attach your paper chess piece to a cardboard base.
#3. Fold paper to create an origami chess set
For an activity that is almost as intricate as the game of chess itself, you can make your paper chess set using wonderful Japanese paper folding techniques.
The New York Times recommends the YouTube videos by Joseph Wu that show you how to create bird-themed chess pieces.
However, we like the wonderful website of Jo Nakashima. As well as instructions for how to make each chess piece using origami, there are an enormous number of beautiful origami patterns available on the website, as well as a link to the artist's YouTube channel.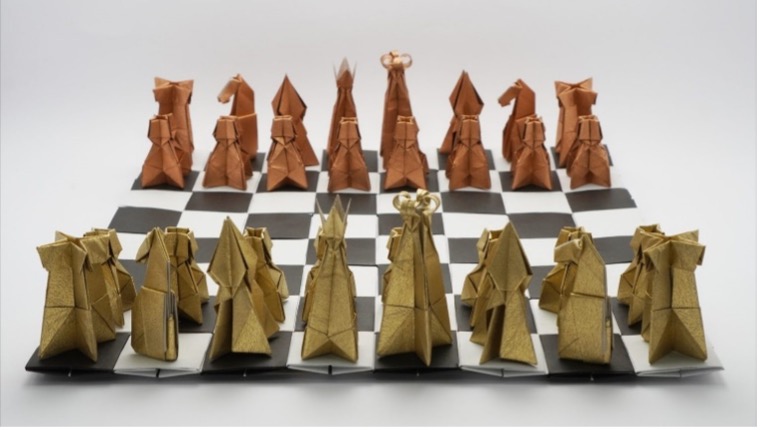 It might take a little more time than the other options listed here for making a paper chess set, but it certainly results in a beautiful board of pieces. And perhaps the artwork will help you develop some skills that will come in handy for playing later – including a lot of patience!
Whichever paper chess set you choose to create, we can't think of a better way to celebrate world chess day!
Feeling inspired?
Read about the origami of scientist Robert Lang.
Or take a look at some of our other papercraft ideas: