Paper-based marketing has an important role to play in the marketing mix. It can help to connect with audiences in a way that digital marketing simply doesn't. Discover the brands and creatives that are using paper to drive customer engagement and success.
Ever felt the drain of digital overload? From FOMO to doom-scrolling, digital channels don't always make us feel great.
By contrast, a beautiful and creative leaflet or a perfectly timed mailer can resonate with us in a tactile, emotional and long-lasting way that digital media just doesn't come close to emulating.
IKEA's Cook this Page
Swedish furniture brand IKEA has used print marketing to great effect in magazines, flyers, and in-store. One of the most impressively creative IKEA campaigns was the Cook this Page campaign the company ran in its Canadian stores. Recipes were printed onto greaseproof paper, which could then be put straight into the oven and cooked. An unforgettable and truly engaging way to promote a kitchen!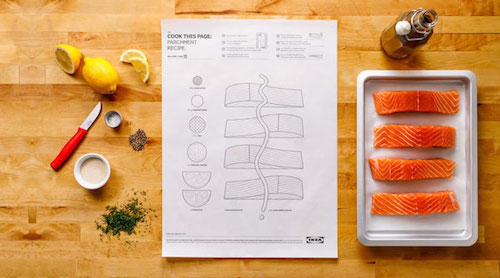 IKEA's Pee on this Ad
Not to be outdone, IKEA's Swedish stores ran a similarly creative campaign to promote the company's nursery furniture. An ad that ran in Amelia magazine invited women to pee on it to confirm a pregnancy. Using the same technology as a pregnancy strip test, chemicals were embedded in the page that would result in a color change if it came into contact with urine from a pregnant woman. If confirmed, the bearer of the ad could claim a discount on a baby crib.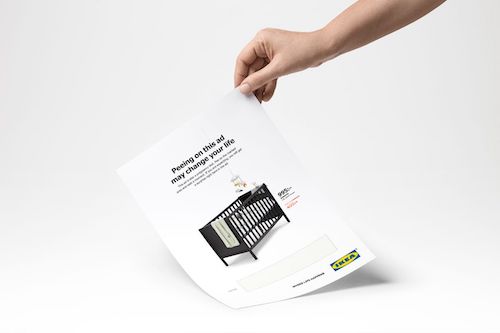 Liberty Mutual's new car smell
Insurance company Liberty Mutual thought outside the box when reaching out to drivers to encourage them to get an insurance quote. They recreated the aroma of a new car in a perfume-like strip in their magazine ad in a novel way to engage their potential customers.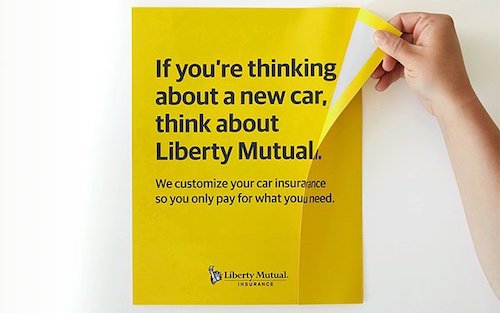 Paper mailers and envelopes embedded with seeds
For a really unusual approach, these papers embedded with vegetable and wild flower seeds are a fabulous way to engage prospective customers. Ideal for promoting garden centers, landscape gardeners, nature activities or other outdoor businesses, they certainly make for a long-lasting impression!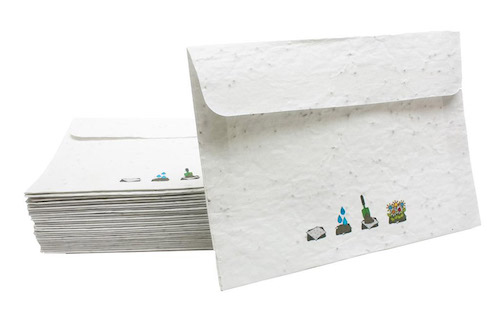 Sometimes you don't even need a gimmick – just great design
Sometimes just a brilliant creative concept combined with the tactility of paper is more than enough to make an impact. As this campaign by Italian agency Tita shows, the power of paper to shut out the distractions of life simply can't be beaten!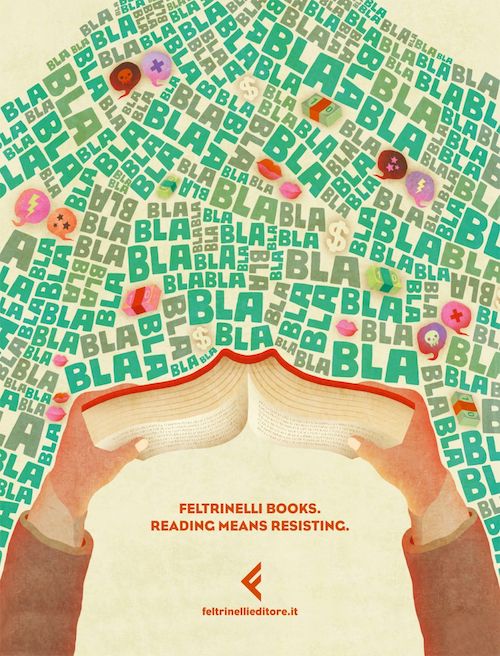 So, here are a few great ideas to get you thinking about how print media can help you to stand out from crowd.
5 tips to make a killer print ad.
If you want a print ad memorable there's a few tips you must know: